Published /
Top 10 Things to Do in Fukushima City
Natural beauty and delicious local delights!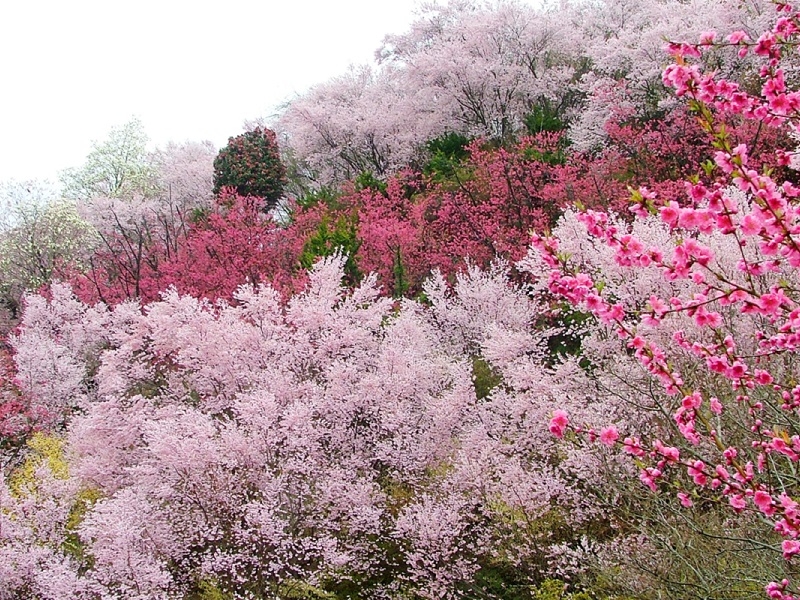 Fukushima City is the perfect weekend getaway for families, couples or anyone interested in exploring the great outdoors. Located ~90 minutes north of Tokyo on the Tohoku Shinkansen, here are our top trip ideas to experience the best of Fukushima City!
#1 A Flowering Paradise
Hanamiyama is one of the most spectacular spring destinations in Japan. A 15-minute bus ride from Fukushima Station will transport you to a flowering paradise. The best time to visit is during hanami season in early April. Fukushima City is home to a wide range of beautiful flowers and gardens. Check our Cherry Blossom Guide for full details.
#2 The Road that Runs Across the Sky
The Bandai-Azuma Skyline is open from April to November and is known as 'the road that runs across the sky'. One of the most scenic drives in Japan, there are a range of hiking trails starting from Jododaira including Mt. Azuma-Kofuji or Mt. Issaikyo. There is nothing better after a day of the great outdoors than a soak in a secluded natural hot spring at Takayu Onsen or Tsuchiyu Onsen.
#3 Unwind in a Relaxing Onsen
There are 3 main onsen areas in Fukushima City. Iizaka Onsen is connected to Fukushima Station by the local Iizaka Line and is known for its historic streets, piping hot onsen waters, the Iizaka Kenka Matsuri, and is home to mouth-watering Enban Gyoza. Tsuchiyu Onsen is the birthplace of Tsuchiyu Kokeshi and is located in a relaxing natural setting. Takayu Onsen is popular with onsen fans from around the world for its traditional vibe and the high quality of its healing waters that are fed directly from the source.
#4 Ittadakimasu!
One of the best ways to know a local area is through its food. Fukushima is known for its quality ramen, poultry (from neighboring Date and Kawamata), and even the local delicacy of Ika-Ninjin (squid & carrot!). But you can't visit Fukushima City without trying the local soul food of Enban Gyoza! These pan-fried dumplings come with a crispy base and juicy filling, and they are served in round disk (or enban). They are perfect for sharing a plate or two with friends and family. Check our Enban Gyoza guide for more details.
#5 Kanpai!
Fukushima Prefecture is one of the leading regions for world-class award-winning sake in Japan. Kinsuisho is an award-winning brewery in Fukushima City, and you can try a wide range of Fukushima Sake at Corasse Fukushima which is a 5-minute walk from the Fukushima Station West Exit.
Fukushima is also home to several craft beer breweries that combine traditional European brewing techniques with local fruits and ingredients. Michinoku Fukushima Beer brewery is located at St. Anna's Garden west of the city.
#6 The Beauty of Space
For 3 generations Bonsai Abe have expertly crafted the local pine Azuma goyomatsu (Japanese white pine) using the philosophy of 'The Beauty of Space' (空間有美 – 'kukanyubi'). You can visit the Bonsai Abe garden for a tour and demonstration, or even be guided through the Azuma Mountains along the Bandai-Azuma Skyline to venture deep onto the world of bonsai and The Beauty of Space.
#7 Traditional Handcrafted Beauty
The north-eastern Tohoku region of Japan is known for the hand-crafted kokeshi dolls. Tsuchiyu Onsen is one of the major kokeshi producing regions in Japan. Visit one of the extensive collections of Tsuchiyu Kokeshi at the community center Yumebutai, visit a local artisan, or even paint your own unique kokeshi.
Mt. Shinobu Dawn Procession (Shinobu Sanzan Akatsuki-Mairi)
#8 The Largest Sandal in Japan!
The Fukushima Waraji is the largest straw sandal in Japan and can be found at the top of Mt. Shinobu at Haguro Shrine. There are two major festivals every year when the Fukushima Waraji is carried through the city center. The Mt. Shinobu Dawn Procession is a 400-year-old festival that takes place on February 10, and the Fukushima Waraji Matsuri over 3 days in early August for the city's main summer festival.
#9 The Fruit Kingdom
Fukushima is known as the fruit kingdom. The region is one of the largest peach producers in Japan, but also grows strawberries, cherries, pears, grapes, and apples. The Fruit Line (Route 5) west of the Fukushima City center is home to many fruit orchards that allow visitors to pick and eat the freshest and juiciest seasonal fruit. Check our Fruit Picking Guide for more information.
Night Fruit Garden is a special event that is held twice a year, once during peach season, and again during apple season. This unique event allows guests to experience a magical night in an orchard under lights.
#10 Flowing Rivers & Natural Beauty
The Arakawa River is one of a handful of waterways in Japan to be awarded the cleanest river in Japan. It runs from Tsuchiyu Onsen and joins the Abukuma River in central Fukushima City. The are a range of activities along the river to enjoy the natural environment of Fukushima.
Centered around Azuma Sports Park, there are an abundance of parks and nature reserves along the river. There is also a 10+ km cycle path that runs from the city to Azuma Sports Park. One of the parks most popular features is the lines of ginkgo trees that are lit-up at night during autumn, and you can also visit the busy craft markets several times a year. For sports fans the Tokyo 2020 Olympic venue Azuma Baseball Stadium is also situated within the park, as well as Toho Minna no Stadium, home of J-League Division 3 Fukushima United FC.
Nearby is Fukushima City Minka-en, an open-air museum of traditional houses from northern Fukushima. This collection of homes, inns, and a theatre gives an amazing insight into the Edo and Meiji periods of Fukushima. There are seasonal events where you can participate in traditional activities. Shiki no Sato is a European-styled garden with a craft hall (paint your own Tsuchiyu Kokeshi) and more, and there is strawberry picking on weekends early in the year. St. Anna's Garden is a collection of quaint shops and restaurants. For kokeshi fans, it is also home to the Nishida Memorial Museum and for craft beer lovers there is the  Michinoku Fukushima Beer brewery.
This is just a taste of what is available in Fukushima City. The city is the perfect weekend getaway for couples, families, or anyone looking for adventure in the outdoors, and it is located a short ride from Tokyo on the Tohoku Shinkansen!