Published /
Jododaira
A Subalpine Hiking Adventure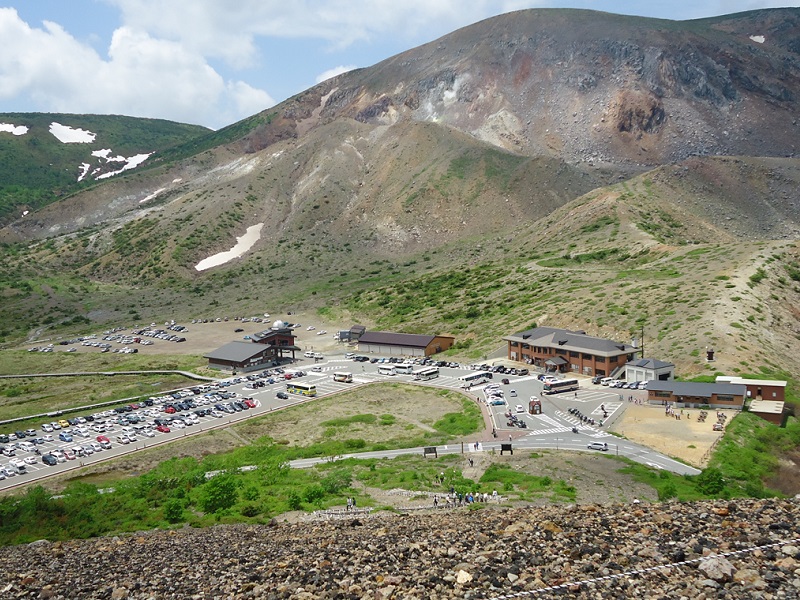 :Jododaira is a subalpine plateau with an elevation of 1600 m. It is located at the mid-point of the spectacular Bandai-Azuma Skyline in the Azuma Mountains. The area features rustic volcanic scenery, pine forests, marshlands, swamps, and wild flowers. The mountainous landscape changes with the seasons, and visitors can enjoy a variety of hiking and walking trails, or simply relax at the Jododaira Visitor Center. Nearby Mt. Azuma-Kofuji has spectacular panoramic views of the surrounding area. Jododaira is also home to the Jododaira Astronomical Observatory which is the highest altitude public observatory in Japan. The area is accessible by car or the seasonal Azuma Skyline Tour Bus. Jododaira gives visitors of all ages a rich taste of Fukushima's beautiful mountain scenery.
Check our Hiking at Jododaira guide or the Bandai-Asahi National Park homepage for more information about hiking in the area.
Opening Hours
Open
2023: April 14 ~ Mid-November
Closed
Nightly Closures (5:00 PM ~ 7:00 AM):
・October 14, 2023 ~ May 7, 2023
Winter Closure:
・5:00 PM, November 15, 2022 ~ April 13, 2023
Note
There may be additional closures or limited hours depending on weather conditions.
Access from Fukushima Station
| | |
| --- | --- |
| Car | 60 mins (see Parking Fees below) |
Parking Fees
| | |
| --- | --- |
| Motorbike | 200 yen |
| Car | 500 yen |
| Mini Bus | 1,000 yen |
| Tour Bus | 2,000 yen |
Mt. Azuma-Kofuji
Mt. Azuma-Kofuji (1705m) is part of the Azuma Mountains and is one of the most recognizable symbols of Fukushima City. Its symmetrical shape and resemblance to Mt. Fuji is the source of the 'Kofuji (Little Fuji)' name. The eastern slope is home to the Snow Rabbit (viewable around March ~ May). It takes about 15 minutes to climb up to the crater from Jododaira, or 1 hour to hike around the crater (with spectacular views of the city below).
Jododaira Astronomical Observatory
Jododaira Astronomical Observatory is the highest altitude public observatory in Japan. The high altitude and surrounding Azuma Mountains make the area an amazing spot to view the night sky. The observatory is only accessible while the Bandai-Azuma Skyline is open from April to November, and opens to the public several nights a week (see schedule below). Entry is free.
Opening Hours (April ~ November)
| | |
| --- | --- |
| Open | 10:00 am ~ 5:00 pm |
| Closed | Mondays (or Tuesdays following a Monday public holiday) |
Night Observations (Wednesdays and Saturdays)
| | |
| --- | --- |
| June, July, August | 8:00 pm ~ 10:00 pm    *last admission time:  9:30 PM |
| September, October | 7:00 pm ~ 9:00 pm    *last admission time:  8:30 PM |
| Closed | November ~ May |
Jododaira Visitor Center
The Jododaira Visitor Center provides educational resources about the subalpine environment, and hiking information around Jododaira.
・Jododaira Visitor Center Homepage (Japanese)
Hiking Courses from Jododaira
There are several hiking courses of various difficulty that start from Jododaira. Check the official Jododaira (Bandai-Asahi National Park) homepage for a range of hiking courses.
Nearby Attractions
・Bandai-Azuma Skyline (0.0 km)
・Takayu Onsen (15.0 km)
・Tsuchiyu Onsen (32.6 km)
Links
・Bandai-Asahi National Park (English – Hiking Information)
・Jododaira Night Time Trip (English)
・Fukushima Travel (English)
・Jododaira Visitor Center (Japanese)
・Jododaira Astronomical Observatory (Japanese)
・Fukushima City Tourism and Convention Association (Japanese)