Published /
Hiking at Jododaira
Bandai-Asahi National Park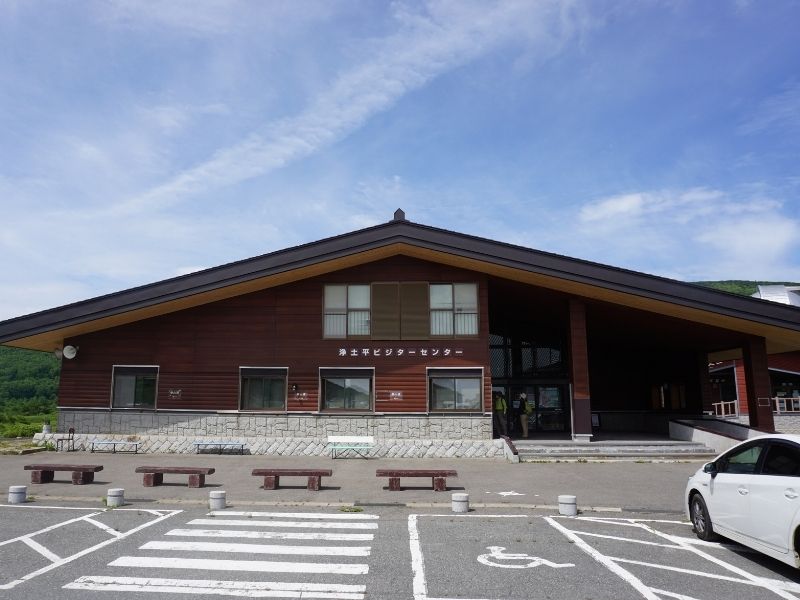 Jododaira Visitor Center
Jododaira is located on the Bandai-Azuma Skyline about 1 hour's drive from Fukushima Station. To get the most out of the experience we also recommend spending a night or two at nearby Takayu Onsen or Tsuchiyu Onsen to relax in the soothing hot springs.
Start at the Jododaira Visitor Center to get current information on the hiking courses, local flora, and fauna. For beginners we recommend the 15-minute to climb up Mt. Azuma-Kofuji, or for more experienced hikers it takes about 3 hours to climb to the summit of Mt. Issaikyo and continue around Kamanuma Pond.
Mt. Azuma-Kofuji ('Little Mt. Fuji')
Across the road from the Visitor Center is Mt. Azuma-Kofuji ('Little Mt. Fuji'). This dormant crater is accessible for all levels. It takes 15 minutes to climb to the top for a great view of the Jododaira area. For the more adventurous, another hour will take you around the crater for panoramic views of Fukushima City in the basin below. But take caution, the wind can sometimes reach hazardous levels, so make sure you hold on to any loose items.
Mt. Issakyo & 'The Witch's Eye'
It takes about 90 minutes to hike from the Jododaira Visitor Center to the peak of Mt. Issaikyo. We recommend this course for intermediate level hikers. Halfway along the route is an evacuation hut and public toilet. From the northern edge of the summit you can see the Witch's Eye ('Majo no Hitomi' also known as Goshikinuma Pond, but don't confuse it with the Goshikinuma Ponds near Mt. Bandai).
NOTE: Mt. Issaikyo is an active volcano. In case of increased volcanic activity, please follow the advice of local authorities. Mt. Issaikyo is a part of 'Azumayama' which is currently at the lowest warning level, Level 1.
Click here for more information about Volcanic Warning Levels.
Kamanuma Pond
When you return from the summit of Mt. Issaikyo via the evacuation hut, follow the course to the right and it will take you around Kamanuma Pond. This is a more accessible route with raised platforms through the highland marshes. It will take an extra 1.5 to 2 hours to loop back to Jododaira.
Jododaira Astronomical Observatory
Make sure you check out the Jododaira Astronomical Observatory while you are here. It is the highest altitude public observatory in Japan. The area is popular with local star gazers, and there are special astronomical events during the summer months.
Relax in an Onsen
There is nothing better than a relaxing soak in an onsen after a long day of hiking. If you don't have a booking at one of the local ryokans then Attakayu Public Onsen in Takayu Onsen or Nakanoyu in Tsuchiyu Onsen are the perfect stop for a day spa on the way back to the city.