Published /
Fukushima City Autumn Leaves Guide
Breathtaking Autumn Foliage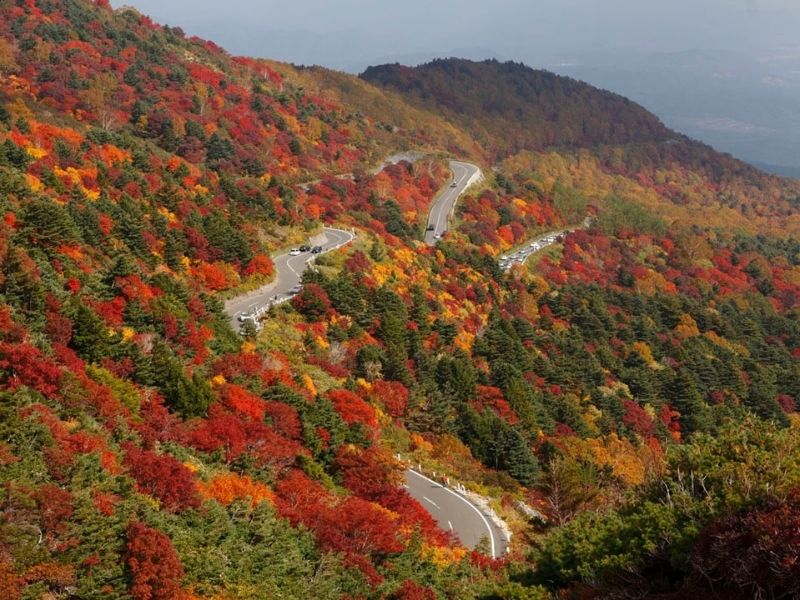 The beauty of autumn leaves is one of Japan's major tourism highlights. It's the perfect time to relax in an outdoor onsen and contemplate the seasonal beauty. Here is our list of the best places to find autumn leaves in Fukushima City! Don't forget to check our Fukushima Guide Facebook page for the latest information.
Bandai-Azuma Skyline
Dates: Late September ~ Late October
🍁 Kamanuma Pond (Alt. 1,760 m): Late September
🍁 Jododaira & Okenuma Pond (Alt. 1,600 m): Late September ~ Early October
🍁 Tengu no Niwa (Alt. 1,400 m): Early ~ Mid-October
🍁 Fudosawa Bridge (Alt. 1,200 m): Mid ~ Late October
🍁 Takayu Onsen (Alt. 750 m): Late October
The Bandai-Azuma Skyline is one of the best scenic drives in Japan. High in the Azuma Mountains the autumn leaves peak earlier than in the city below. Starting at Kamanuma Pond, then Jododaira, Tengu no Niwa (The Tengu's Garden), and Fudosawa Bridge, there is a wide variety of spectacular autumn foliage from late September until the end of October. Be careful the route can be very crowded during peak times on weekends and public holidays.
Azuma Sports Park Ginkgo Trees
Dates: Late October ~ Early November
Closed: Tuesdays
The ginkgo trees at Azuma Sports Park are a popular destination for photographers of all levels. The area is lit up at night between 5:00 pm and 8:00 pm from late October to early November. There is often a food truck in the area serving hot drinks and light snacks.
Jorakuen
Dates: Late October ~ Early November
Jorakuen is a traditional Japanese garden on the Fruit Line west of Fukushima City. The park has a wide variety of flora that highlights the range of autumn colors around the expertly manicured pond.
Mochizuri Kannon
Dates: Late October ~ Early November
Mochizuri Kannon has been visited by a several famed Japanese poets including haiku master Matsuo Basho. Autumn is the ideal season to visit this beautiful history soaked shrine.
Kuroiwa Kokuzoson
Dates: Late October ~ Early November
Kuroiwa Kokuzoson is one of the best kept autumn secrets in Fukushima City. This secluded shrine offers an amazing view of the Abukuma River and is a short drive south of the city center. The shrine is located behind Manganji Temple.
Surikami River Dam & Lake Moniwakko
Dates: Late October ~ Early November
If you are looking for a nice relaxing drive, Surikami River Dam is approximately 40 minutes drive from central Fukushima City. North of Iizaka Onsen, the area is also a popular camping spot for families. You can also visit the Surikami River Dam Information Center, or join a kayak tour on Lake Moniwakko.