Published
Fukushima City Retro Spot Walking Courses (Vol.1)
Recommended Course 1: Ogura-tei Course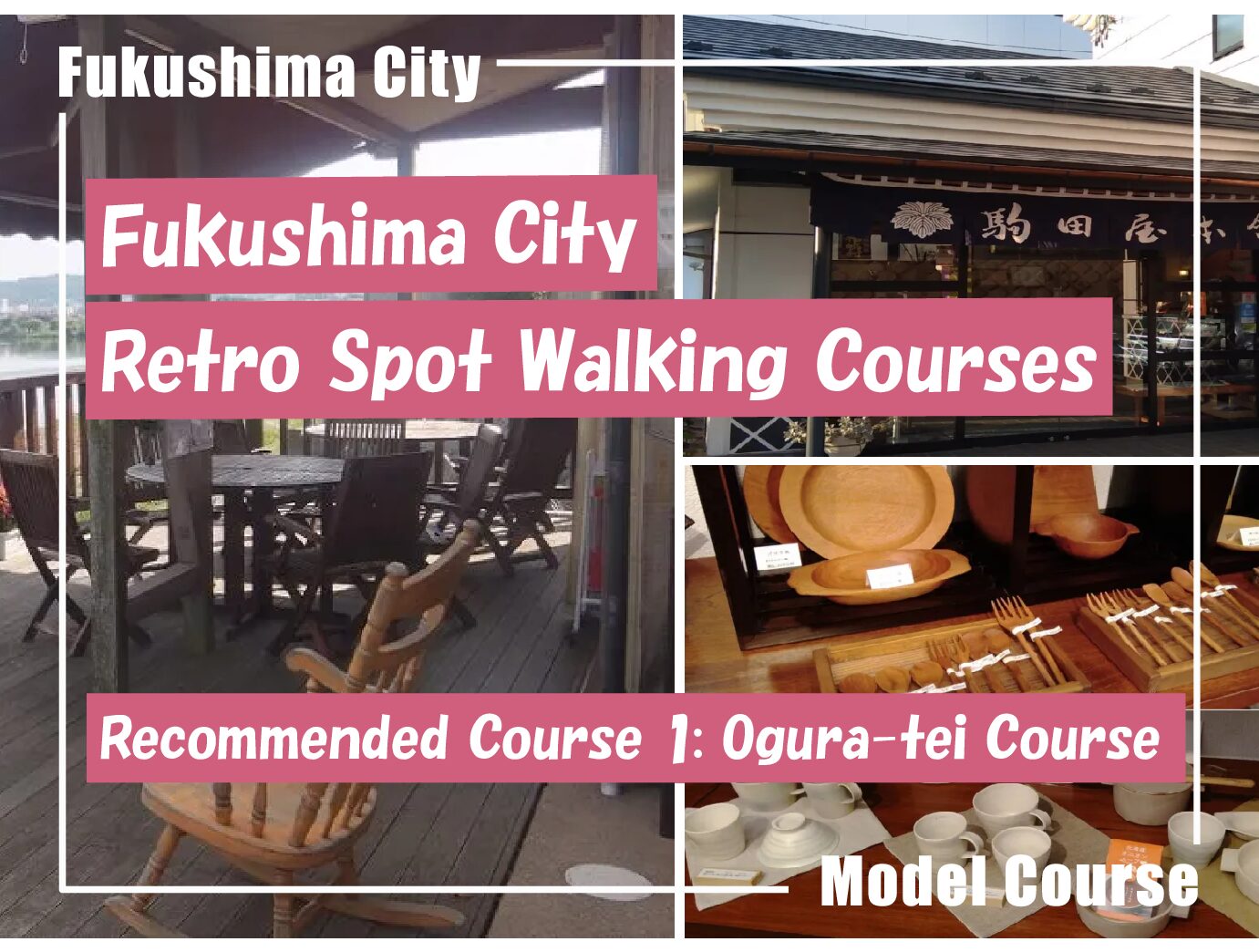 Old Japanese-style architecture, traditional Fukushima sweets, and unique daily-use items
The area around Fukushima Station—which is only about 90 minutes from Tokyo Station by Tohoku Shinkansen bullet train!—offers special experiences that can only be found in the city's central district. This Ogura-tei Course gives you the chance to appreciate old Japanese-style architecture, enjoy the view of the Abukuma River, and stroll and shop in the streets around the station at a leisurely pace, within only two hours.
❶  Pick up pamphlets from Fukushima City Tourist Information Center.
When you arrive at Fukushima Station, first visit Fukushima City Tourist Information Center located just outside the Shinkansen exit gate. Here you can pick up pamphlets full of useful information for walking around the station as well as pamphlets about hot springs and other attractive tourist spots.
Bilingual staff, who are all well-versed in the charms of Fukushima, are also on standby to assist you at the center. They will help you make a travel plan and provide information on spots off the beaten track, money-saving tips, etc., to make your trip to Fukushima unforgettable.
Address: JR Fukushima Station West Exit 2F, 1-1 Sakae-machi, Fukushima-shi, Fukushima-ken (See Google Map)
Phone: (024) 531-6428
Opening hours: 9:00 a.m. to 6:00 p.m.
Open 7 days a week
Click here for details
▼ Approx. 20-minute walk ▼
❷  Ogura-tei: Admire Japanese-style architecture and spend an elegant, relaxing time on the deck overlooking the Abukuma River
Ogura-tei (the former Ogura Residence) is a traditional Japanese residence built for the head of the Fukushima branch of the Bank of Japan in 1927. The tatami-mat hallways and handmade glass windows exude a nostalgic ambience. The house is open to the public, so you can freely wander around it and its well-cared-for Japanese garden. Gazing at the fantastic view of the Abukuma River from the garden, you may lose track of time!  
The deck outside the house also offers a breathtaking view of the river nearby. The Ogura-jaya teahouse on the deck is an ideal place for a rest, where you can relax over a cup of tea and snacks while gazing over the glittering river. The teahouse also sells food items carefully selected from among those prepared by nearby stores and caterers, demonstrating the goodwill of the proprietress in supporting local businesses. Her Fukushima dialect is also a delight to the ear!
The passage beside the deck leads down to the riverside, which the locals call "waihan," a contraction of the Japanese words for "the bank of the Abukuma River." Waihan has long been a place for relaxation for the locals. If you have time, why not enjoy a stroll along the river?
Address: 1-78 Ogura-cho, Fukushima-shi, Fukushima-ken (See Google Map)
Phone: (024) 522-2390
Opening hours: 10:00 a.m. to 6:00 p.m. *At some times the residence may be closed to the public, when it is reserved in its entirety or for other reasons.
Closed on Tuesdays
Click here for details

▼ Approx. 5-minute walk ▼
❸ Komadaya-hompo: a retro confectionery store offering traditional sweets
After Ogura-tei, stop by at Komadaya-hompo, a long-established confectionery store opened in the late Edo Period, to buy miso-pan, a simple, additive-free, miso-flavored steamed bun.
Miso-pan is a rustic, nostalgia-inducing, tasty treat that will delight your palate with the mild sweet flavor of locally produced miso paste.
Miso-pan can be heated in a microwave to regain its freshly steamed taste, and pairs well with cream cheese filling.
Address: 5-29 Ara-machi, Fukushima-shi, Fukushima-ken (See Google Map)
Phone: (024) 522-4729
Opening hours: 8:30 a.m. to 6:00 p.m. on weekdays, 8:30 a.m. to 5:00 p.m. on weekends and national holidays
Open 7 days a week
▼ Approx. 5-minute walk ▼
❹ iGETA: a specialty store offering a selection of unique Fukushima souvenirs
To conclude the course, visit iGETA, a specialty store opened in 1861, to enjoy shopping for items carefully selected and collected from Fukushima and indeed all over Japan. There is such a fantastic collection that simply browsing is a real treat!
The selection includes cutlery made from peach and apple tree wood, specialty fruits of Fukushima; embroidery bearing a motif of Hanamiyama Park, Fukushima City's highly popular flower-viewing spot; and vessels crafted near the Azuma Mountains. All these items are unique yet can be used in everyday life. Find your favorite Fukushima souvenirs in this store!  
The O-hyakusho-ya farmers' market at the entrance to the store building is a rare spot where fresh vegetables grown by local farmers are available in the city center. At O-hyakusho-ya, coffee is also served at a coffee stall or a pop-up café that changes every day. Imbibe the feeling of Fukushima by chatting with the café owners!
Note: The items shown in the photos on the right may not be available at the store due to product replacement.
Address: 2-7 Moto-machi, Fukushima-shi, Fukushima-ken (See Google Map)
Phone: (024) 522-2353
Opening hours: 10:00 a.m. to 7:00 p.m.
Closed on Wednesdays
After purchasing your souvenirs, return to Fukushima Station. The station is only five minutes on foot from iGETA. If you have time before you catch a Shinkansen bullet train, please drop by the Tourist Information Center to give your comments on the course!
Overview of the course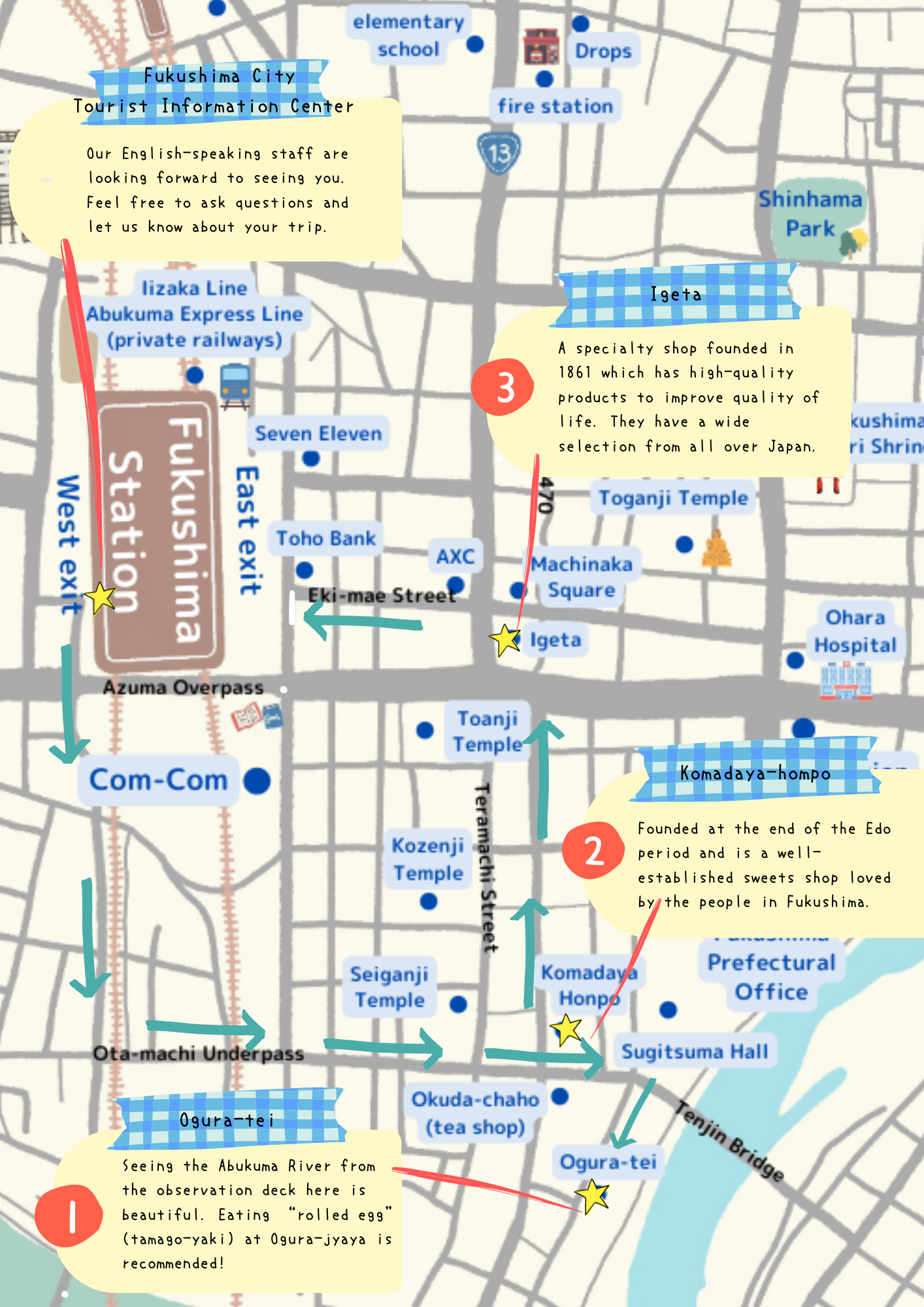 | | |
| --- | --- |
| Time required | Approx. 120 minutes at a leisurely pace |
| Distance | Approx. 2.3 km |
| Features | Sightseeing and shopping, flat course |
| Starting point | Fukushima Station |
| Goal | iGETA (specialty store) |
Note: For the latest information on each store, check their official websites, social media, etc.