Published
Fukushima City Walking Tour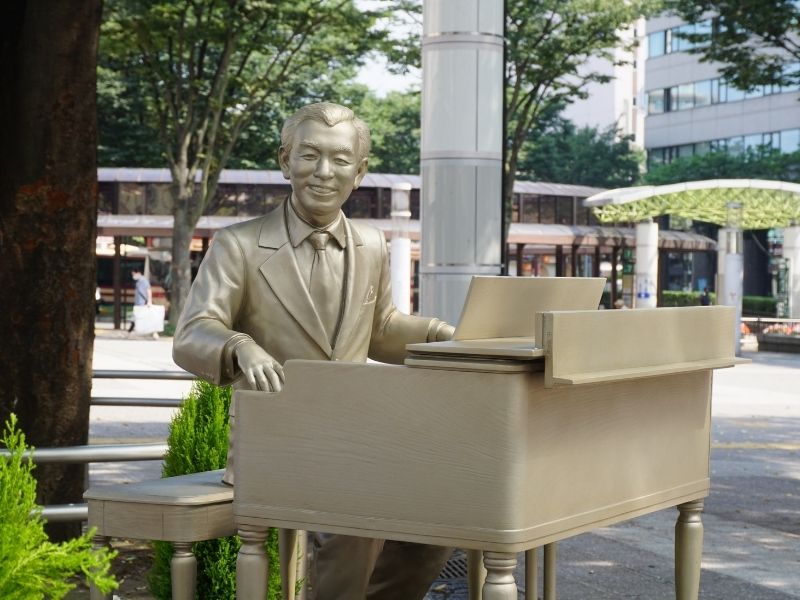 Fukushima City Walking Tour
This leisurely walk takes about 2 hours (approximately 3 km) starting and finishing at Fukushima Station. Outside the Fukushima Station East Exit is a statue of famed Fukushima City composer Koseki Yuji. Every hour on the hour the monument plays one of his popular tunes. If you want to learn more about him the Koseki Yuji Memorial Hall is located on the east side of Mt. Shinobu a short bus ride from Fukushima Station.
Ekimae Street
Ekimae Street runs east from the station and has a range of delicious restaurants. Coffee Gourmet is a popular local café for a full meal, or just coffee and dessert. You can find the modest Akiba Shrine along this street. It was built to protect the city from potential fires when coal-powered trains ran through the city. Across Route 13 is Machinaka Hiroba which is a regular venue for festivals and events on weekends and holidays.
Paseo Street & Bunka Street
Turn left on to Paseo Street. This scenic European-themed boulevard (paseo is Spanish for stroll or walk) is packed with delicious restaurants. Koransho Yokocho has selection of intimate counter-style eateries, and next door is Pasenaka Misse. Paseo Street is especially beautiful in winter during the Drops of Light Illumination event.
Turn right at Bunka (culture) Street. There are more restaurants and fashionable clothing stores. If you have a sweet tooth, we recommend a stopping for a stack of pancakes at Candy-Do.
Fukushima Inari Shrine
Fukushima Inari Shrine dates back over 1,200 years and is the spiritual heart of Fukushima City. There are big festivals for the New Year's period, Setsubun (the bean-throwing festival on March 3), and in summer. Although the biggest is the autumn festival in early October. Bonus fact: The large torii gates at Fukushima Inari Shrine were a gift from Meiji Shrine in Tokyo.
Kencho Street
Head back out the west gate and go south along Kencho Street. Hitoto is a popular and stylish macrobiotic café for a healthy lunch, or stop at Pentonote café for a coffee and browse their selection of unique stationary. Just around the corner on Koseki Yuji Street is Melon de Melon with freshly baked melon bread!
The Former Site of Fukushima Castle
If you keep heading south down Kencho Street you will find the Fukushima Prefectural Government Offices. This was the former site of Fukushima Castle. On the eastern side of the offices is Momijiyama Park and Itakura Shrine that commemorate the former castle and its lords. You can also get a great of view of the Abukuma River.
Ogura-tei & The Temple District
You can walk along the banks of the river in the Waihan district. Further down the river is Ogura-tei. This residence once belonged to the first manager of the Fukushima branch of the Bank of Japan. Relax at the Ogura Tea House and see the grain storage that once belonged to the Yonezawa Clan. Goods were shipped down the Abukuma River to Sendai, and then down the coast to Tokyo.
Heading back to the station will take you through the temple district that once served Fukushima Castle. Jotokuji Temple is a highlight in spring for its cherry blossoms.
Places to Eat
If you are looking for somewhere for lunch Terui Gyoza at the East Exit is a perfect place to try Fukushima City's famous Enban Gyoza, or there are several other options at S-PAL in the station or several restaurants along Ekimae Street. For dinner we recommend returning to Paseo Street which has a wide variety of options for the serious gourmet.