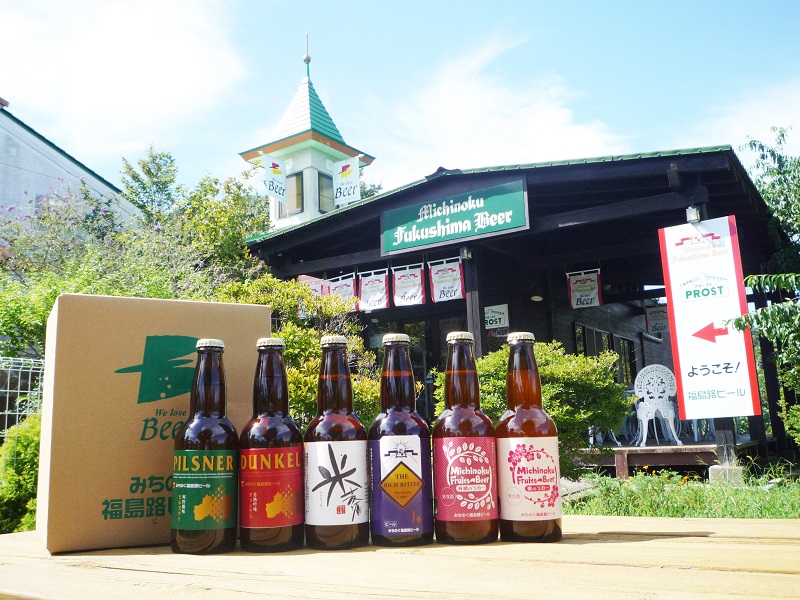 Michinoku Fukushima Beer
Michinoku Fukushima Beer use a range of European ingredients to produce pilsner, dunkel, and weizen beers. They also produce fruity lagers, ales, and other beers from locally grown Fukushima peaches and apples. Craft beer fans should definitely check them out on a trip to Fukushima City.
The factory is a 30-minute drive from Fukushima Station, among a quaint collection of cafes and shops at St. Anna's Garden. But if you can't make it to the factory their range of beers are also available at numerous local bars and restaurants as well as in gift shops and stores around the city including CORASSE, Jupiter (S-PAL 1st Floor), and Nakago.
Opening Hours
| | |
| --- | --- |
| Open | 10:00 am ~ 5:00 pm |
| Closed | December 29 ~ January 3 |
Access from Fukushima Station
Bus
| | |
| --- | --- |
| Route | Tsuchiyu Onsen (土湯温泉) |
| Route | Minami Tohoku Fukushima Byoin-mae keiyu Tsuchiyu Onsen (南東北福島病院前経由土湯温泉) |
| From | East Exit Bus Stop No. 7 |
| To | Jichi-kenshu Center (自治研修センター) |
| Fare | 690 yen |
| Time | 32 min (+10 min walk) |
Nearby Attractions
・St. Anna's Garden (0.0 km)
・Nishida Memorial Museum (0.0 km)
・Shiki no Sato (1.5 km)
・Minka-en (4.0 km)
・Tsuchiyu Onsen (5.2 km)
Links
・Michinoku Fukushima Beer Official Homepage
http://www.f-beer.com/ (Japanese)
・Facebook
https://www.facebook.com/FukushimaBeer/