Published /
Fukushima City Cherry Blossom Guide
Fukushima City, A Flowering Paradise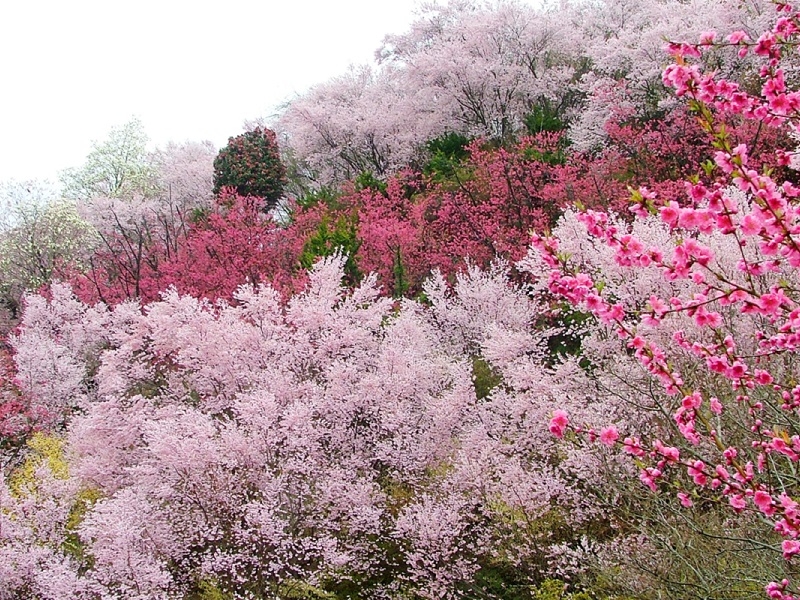 Fukushima City is renowned for the beauty of its spring flowers. There is a wide variety of flowering trees and plants which means that there is always something beautiful to see during spring. The city is also home to relaxing onsen, art galleries, and local delicacies including enban gyoza. Check our Fukushima City Walking Tour or Mt. Shinobu Hiking Guide for more vacation ideas. Whether you are visiting for a day-trip or spending a few nights at a traditional ryokan, spring is the best time to visit Fukushima City!
Note: The condition of the cherry blossoms and flowers are subject to local weather conditions. The times listed below are subject to change.
Hanamiyama
Best Dates: Late March ~ Mid-April
Hanamiyama comes to life in a sea of color every spring with a wide variety of flowers. Famed Japanese photographer Akiyama Shotaro once called it 'a utopia in Fukushima'. The 60-minute hiking course to the observation area at the top of the park offers breath-taking panoramic views of Fukushima City. The seasonal 'Hanamiyama Go' bus runs from Fukushima Station every 30 minutes (500 yen return) during peak cherry blossoms season. If you feel like a nice stroll, we recommend Bentenyama and Chayanuma which are about 30 minutes' walk from Hanamiyama. A bit further afield is the hidden beauty of Daizoji Temple.
Daizoji Temple
Best Dates: Late March ~ Early April
Daizoji Temple, home of the Oguraji Kannon, is the 1st stop on the Shintatsu 33 Kannon Pilgrimage. The temple is also home to a 1000-armed Kannon statue that is a designated cultural property of Fukushima City. Reservations are required to see the statue, and it may not be available for public viewing at certain times. While there are several nice cherry blossoms within the main temple grounds, the temple is better known for a pair of weeping cherries that are a 5-10 minute walk from the main temple. Take the footbridge over Route 114 and walk 100 m down the hill. It's definitely worth the extra effort.
Mt. Shinobu
Best Dates: Late March ~ Mid-April
Mt. Shinobu is home to over 2000 cherry blossom trees, 300 of which are in Shinobuyama Park. During the Shinobuyama Park Matsuri the cherry blossoms are lit up every night from 6:00 pm ~ 11:00 pm, and there are a range of festival stalls for dinner under the blossoms. But make sure you bring a jacket as it can get a bit cool. If you are visiting during the day we recommend making the 30-minute hike to Haguro Shrine to see the Fukushima Waraji, the largest straw sandal in Japan. The Hagurosan Kannon is the 2nd stop on the Shintatsu 33 Kannon Pilgrimage. If you have extra time to explore we recommend hiking to the Karasugasaki Observation Deck for the best view of the city. The Momorin City Loop Bus runs every 20 mins from Fukushima Station (100 yen). For access to Mt. Shinobu get off at the Fukushima TV bus stop.
Hanamomo no Sato
Best Dates: Mid ~ Late April
Hanamomo no Sato is a 15-20 minute walk from Iizaka Onsen Station. The area was originally used as a test facility to cultivate a wide variety of flowering peach trees. It currently features 300 trees of around 40 species spread over 2 acres. It is a perfect country getaway under beautiful blue skies. Relax in an onsen, try a local cafe or ramen shop for lunch, and discover the history of Iizaka Onsen.
Otowa Park
Best Dates: Early ~ Mid-April
Otowa Park is one of the hidden gems of Fukushima City. It is located near Hanamizuzaka Station on the Iizaka Line. Combined with Hanamomo no Sato this park makes the perfect spring day in Iizaka Onsen. 
Jitokuji Temple & Azuma Sports Park
Best Dates: Early ~ Mid-April
Jitokuji Temple is one of the most spectacular weeping cherry trees in Fukushima City. It is stop number 6 on the Shintatsu 33 Kannon Pilgrimage. The temple is a 10-15 minute walk from Azuma Sports Park which is also home to 800 Yoshino cherry trees as well as a wide variety of over 4,000 other trees around the park. We also recommend a visit to Fukushima City's Minka-en. It is the perfect opportunity to experience the natural beauty and history of Fukushima.
Jorakuen
Best Dates: Early ~ Mid-April
Jorakuen is a traditional Japanese garden in western Fukushima City. While this garden is better known for its irises in early summer and it's autumn leaves, it still boasts an impressive display of cherry blossoms. Entry to the park is 500 yen. Access by car.
Omorijoyama
Best Dates: Early ~ Mid-April
Omorijoyama is the best kept secret in Fukushima City. The park is popular with families and there are plenty of play and picnic areas for young families. Also nearby are Entsuji Kannon and Joyama Kannon, the 4th and 5th stops on the Shintatsu 33 Kannon Pilgrimage. It is easy to access by car, or it takes 30 minutes (2.2 km) walk from Minami Fukushima Station on the JR Tohoku Line.
There are even more beautiful cherry blossoms, flowers, and gardens around Fukushima City. Check our Fukushima Guide Facebook page for live updates in spring.