Published /
Daizoji Temple
Overflowing with the history and spring beauty of Fukushima City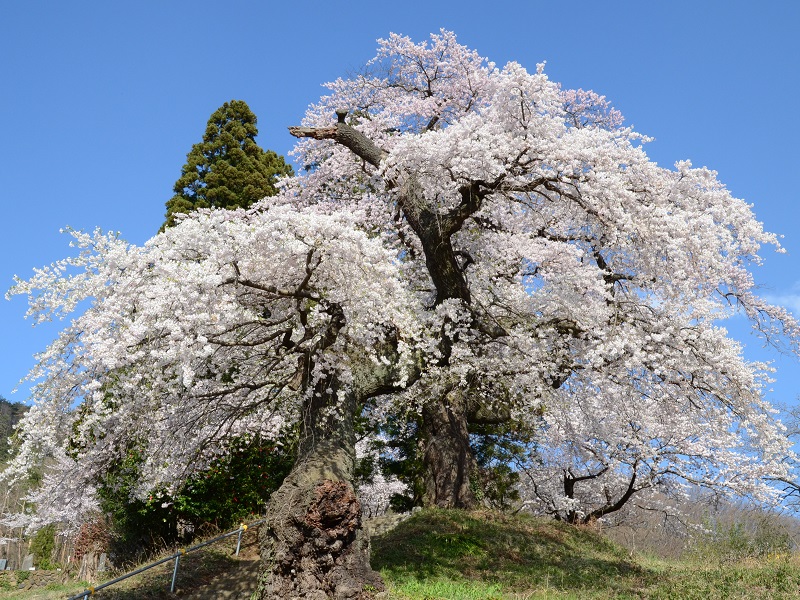 Daizoji Temple was founded in the name of Heian period shogun Sakanoue no Tamuramaro (758 ~ 811) at the foot of Bentenyama. It features a kannon statue crafted by famed Buddhist priest Gyoki. The 1000-armed wooden 'Senju Kannon' is about 4 m tall and made from a single piece of Japanese nutmeg (torreya nucifera). It is the largest and old Buddhist icon in Fukushima City. The 10th century Jokan-style statue from the early Heian period is a nationally designated important cultural property. Please note that the statue is not available for viewing by the general public. It is the first stop on the Shindatsu 33 Kannon Pilgrimage. The temple is also a popular destination in spring for the 300-year-old 'shidare-zakura' and 'chigo-zakura' cherry blossoms.
Opening Hours
Open Every Day
Access from Fukushima Station
Car
Bus
Note: Bus times, routes, and bus stop locations are available on Google Maps.
| | |
| --- | --- |
| Route | Nankodai Junkan Kuroiwa-sakimawari (南向台循環黒岩先回り) |
| From | East Exit Bus Stop No. 6 |
| To | Nankodai Iriguchi (南向台入口) |
| Fare | 300 yen |
| Time | 15 min (+23 min walk) |
Bus
| | |
| --- | --- |
| Route | Nankodai Junkan Watari-sakimawari (南向台循環渡利先回り) |
| From | East Exit Bus Stop No. 6 |
| To | Nankodai Iriguchi (南向台入口) |
| Fare | 380 yen |
| Time | 21 min (+23 min walk)      |
Nearby Attractions
・Bentenyama (1.8 km)
・Kuroiwa Kokuzoson (2.8 km)
・Hanamiyama (3.2 km)
Links
・Fukushima City Tourism and Convention Association (Japanese)