Published
Mt. Shinobu Dawn Procession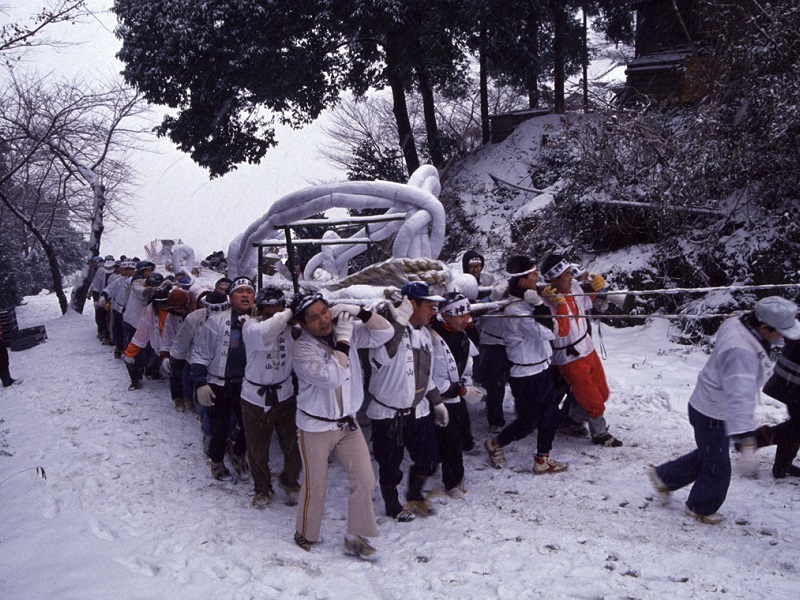 Mt. Shinobu Dawn Procession
The Fukushima Waraji, the symbol of Fukushima City, is enshrined at Haguro Shrine on Mt. Shinobu. It is 12 meters long, 1.4 meters wide, and weighs 2 tonne, making it the largest straw sandal in Japan. During the Mt. Shinobu Dawn Procession (or Shinobu Sanzan Akatsuki-mairi in Japanese) the waraji is carried past the east side of Fukushima Station through the city center and up Mt. Shinobu to Haguro Shrine.
Many years ago, there was a gate with a large Nio statue guarding the entrance to Haguro Shrine. It is said that the giant waraji was made to fit the feet of this Nio statue. The festival has been held for more than 400 years.
People pray to the waraji for a bountiful harvest, family safety, and health. It is also common for people who suffer from leg or feet related injuries to pray for good health. They also say that if you pray at the shrine for 3 years in a row, it will help you find your true love. People also pray for traffic safety and passing exams.
The stalls around the shrine sell a wide range of charms, trinkets, and candy including daruma, golden waraji, ceremonial arrows, zodiac figurines, and ema prayer tablets. They are open from midnight until early morning on February 11.
2020 Event Details
Dates
February 10, 2020 (Monday)
February 11, 2020 (Tuesday, Public Holiday)
Waraji Parade
February 10, 2020 (Monday)
⇒ Parade Start (Oyama Workshop): 9:00 AM
⇒ Cawachi (Pharmacy): 9:40 AM
⇒ Sato Manufacturing: 10:00 AM
⇒ 7-Eleven (Izumi): 10:30 AM
⇒ Fukushima Narita-san Temple: 10:45 AM
⇒ Max Fukushima: 11:10 AM
⇒ Fukushima Station East Exit: 11:30 PM
⇒ Fukushima City Central Parking: 12:00 PM
⇒ Fukushima Fire Station: 1:40 PM
⇒ Kuronuma Shrine: 2:20 PM
⇒ Haguro Shrine (Dedication Ceremony): 3:00 PM ~
Note: The waraji parade and dedication ceremony take place on February 10 ONLY.
Additional Events
8th Fuku-Otoko Fuku-Onna Race (Lucky Man Lucky Woman Race)
February 10, 2020 (Monday)
Opening Ceremony: 7:30 PM ~
Race Start: 8:00 PM ~
| | |
| --- | --- |
| Inquries | Junior Chamber International Fukushima Branch |
| TEL | 024-521-1635 |
| HP | http://f-247jc.jp/ |
Fukushima Gokoku Shrine
February 11, 2020 (Tuesday, Public Holiday)
11:00am: Kohaku-ame (red and white candy) for the first 100 visitors.
Access from Fukushima Station
Bus
| | |
| --- | --- |
| Route | Momorin City Loop 2 Course (市内循環ももりん2コース) |
| From | East Exit Bus Stop No. 9 |
| To | Fukushima TV (福島テレビ) |
| Fare | 100 yen |
| Time | 7 min (+30 min hike up Mt. Shinobu) |
Car
Temporary Parking Available
・Hello Work Fukushima (MAP)
・Gakuho Fukushima High School (MAP)
・NCV Fukushima Arena (MAP)
(+30 min hike up Mt. Shinobu)
Links
・Shinobuyama Guide Center