Published /
Nashi Pear Picking
Pick the freshest seasonal fruits on the Fruit Line in Fukushima City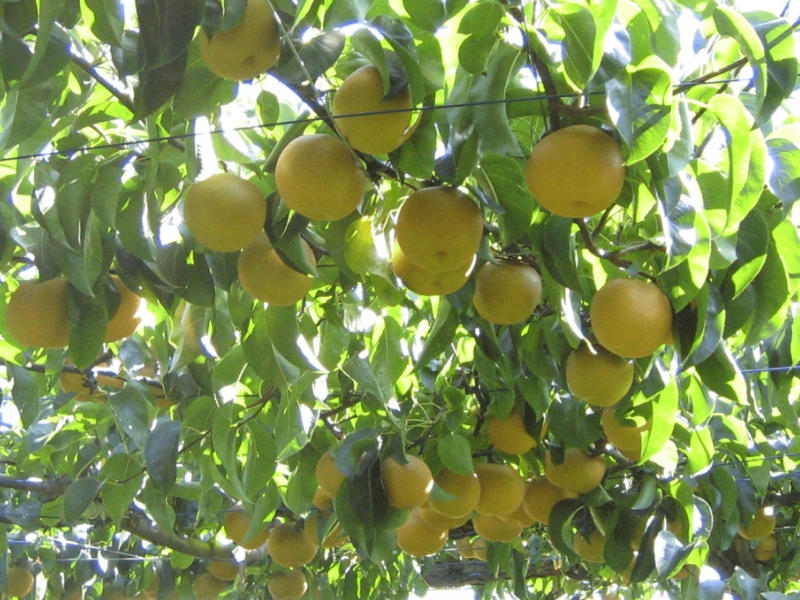 (Updated: September 7, 2021)
Nashi pears are sweet and crispy, and have a round shape not like the more traditional pear shape known in western countries. Visit one of the following orchards to taste some juicy and delicious pears. These orchards are available for pear picking from late August to late October. Dates and times may change depending on seasonal weather and availability of fruit.
🍐 Azuma Orchard (Fruit stand sales only in 2021)
🍐 Kunii Pear Orchard (August 15 ~ September 30)
🍐 Marue Tourist Orchard (August 18 ~ Late October)
🍐 Marusei Orchard (Late August ~ Late October)
Azuma Orchard
Nashi Pear Picking Season
Note: Pears are available from the fruit stand, but fruit picking is not available in 2021. 
Prices

Weekdays
Adult (12+) 500 yen, Child (4-11) 400 yen, Infant (Under 4) Free

Weekends & Public Holidays
Adult (12+) 700 yen, Child (4-11) 600 yen, Infant (Under 4) Free

Map
https://goo.gl/maps/xeJ7DJNSAxjxBsFj7
Business Hours
8:00 am ~ 5:00 pm
Picking Hours
9:00 am ~ 3:00 pm
Phone
024-543-1460
Fax
024-542-1119
Homepage
http://www.dab.hi-ho.ne.jp/aduma/
Facebook
https://www.facebook.com/adumakaju
Parking
Buses: 13 Spaces
Cars: 20 Spaces
Access

20 mins from Fukushima Station by car.

Check Directions on Google Maps for public transport information.

Coupon
Not available in 2021.
Kunii Pear Orchard
Nashi Pear Picking Season
August 15 ~ September 30
Prices

Adult (12+) 540 yen, Child (4-11) 432 yen, Infant (Under 4) Free

Map
https://goo.gl/maps/dSquvFjAiRrYFzGg7
Business Hours
–
Picking Hours
–
Phone
024-591-1960
Fax
024-591-1960
Homepage
http://www.kuniinasien.jp/
Facebook
–
Parking
Mini Buses: 1 Space
Cars: 4 Spaces
Access

15 mins from Fukushima Station by car.

Check Directions on Google Maps for public transport information.

Coupon
2021 Momorin Special Coupon (Nashi Pear Picking)
(Note: Printed coupon required for discount. Screenshots not accepted.)
Marue Tourist Orchard
Nashi Pear Picking Season
Late August ~ Late October
Prices

Weekdays
Adult (12+) 550 yen, Child (4-11) 440 yen, Infant (Under 4) Free

Weekends & Public Holidays
Adult (12+) 770 yen, Child (4-11) 660 yen, Infant (Under 4) Free

Map
https://goo.gl/maps/s8Kggvv3DWqKqhDy6
Business Hours
8:00 am ~ 5:00 pm
Picking Hours
8:30 am ~ 4:30 pm
Phone
024-558-0516
Fax
024-557-7026
Homepage
http://www.184184.com/marue/
Facebook
–
Parking
Buses: 3 Spaces
Cars: 30 Spaces
Access

20 mins from Fukushima Station by car.

Check Directions on Google Maps for public transport information.

Coupon
2021 Momorin Special Coupon (Nashi Pear Picking)
(Note: Printed coupon required for discount. Screenshots not accepted.)
Marusei Orchard